A lot of the time, when we think of technology, we think about the entertainment aspect. We think of how our smart phones and other gadgets allow us to play games and watch movies no matter where we are. However, technology has done more than just provide more distractions. My life would be very different without the advances of technology.
While it's true that sometimes you need to take a break from technology, I wouldn't want to be rid of it permanently. Here are some of the ways that technology has improved my life: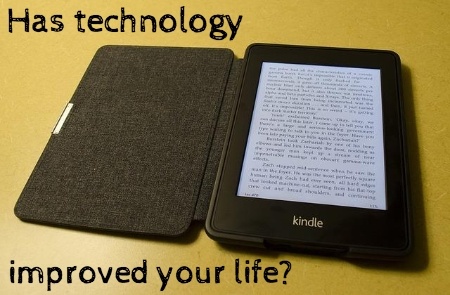 Access to More Information
First of all, technology offers access to more information. I'm able to learn about the world around me, and see what else is happening around the world.
Unfortunately, you do have to watch out for filter bubbles, and the choices of sources mean that sometimes you get stuck cherry-picking only the information you already agree with. In order to avoid becoming to caught up in my own viewpoint, I like to use technology to seek out opinions that are different to mine.
I also like that technology makes it possible for me to carry an entire library around with me. I love my Kindle, I can keep my books with me, and read any information I want, just with a few finger swipes. From helping my son learn more about science and world culture, to reading an interesting biography no matter where I am, technology offers access to information.
Ability to Connect with People Around the World
I also love that technology makes it possible to maintain relationships with people, no matter where you are. I'm able to Skype with my dad every week. We have a good time talking to each other, and conversing face to face. Just last week, when he contacted me via Skype, I was on a train. We were able to have a conversation, even though I was traveling.
Not only does technology help me stay in touch with loved ones across the country, but I've been able to develop relationships with people around the world. I have friends living in many countries, and we can talk using Hangouts or Skype, and chat online.
I also find that technology makes it possible to connect with people who share your goals and values. I often find myself living in areas where I don't have much in common with those around me. The Internet has allowed me to connect with people who have similar interests. While I think it's important to develop relationships in the "real" world, the truth is that many of my online friends know me better than a number of my neighbors.
Boost My Health
Technology offers great ways for me to boost my health. I can use apps and websites that help me keep track of my diet and exercise. If I have questions about different foods, prescriptions, or other items related to health, I can visit a reputable website for information.
I also use online videos to help me find new workouts to do in order to keep healthy and fit, as well as get healthy recipe ideas. And, of course, the only thing that keeps me sane while I'm working out some days is the fact that I can listen to podcasts on my iPhone.
Career on My Terms
Finally, technology allows me to have a career on my terms. Without the Internet, computers, and laptops, not to mention the widespread adoption of WiFi, I wouldn't be able to do what I do. As it is, I can make money no matter where I am.
I work form home, and I have a career that allows me to choose my schedule and my clients. I get to do what I love, and design my lifestyle, and technology makes it possible.
Has technology impacted your life? How does it affect you?