Not too long ago, I attended a maturation program at my son's school. The first hour was just for parents and caregivers, and dealt with adolescent brain development. As the presenter talked about the way the brain develops during the years of adolescence, I was struck with a few interesting thoughts about how I can increase the chances that my son will become a fully functioning and productive member of society later on.
A Few Facts about Adolescent Brain Development
The presenter offered some interesting facts about brain development for us to chew over. First of all, he pointed out that the brain isn't fully developed until sometime in your mid-20s. On top of that, the brain develops from the back to the front. Guess where all the high-functioning decision-making stuff is? That's right: In the front. So that says a lot about why teenagers act the way they do.
But there were two more interesting facts about brain development that stood out to me, including:
Ages 10 to 13 see an increase in the development of brain cells and synapses. It's a huge buildup on a scale not seen since very early childhood.
The brain is a "use it or lose it" proposition. Pathways that aren't well traveled are discarded.
So the time of adolescence is very important in brain development, but it is also challenging because there's a lot going on, and teens need to figure out how to deal with it.
Helping Your Child Develop Good Habits
I've always been pretty good about enforcing things like work before play with my son, but after this learning experience, I realized that consistency is especially important in some areas.
What really stood out to me is that adolescents are learning at a rapid pace. They have a great capacity. But, at the same time, the brain is also developing pathways that can become permanent later on. The things that adolescents focus on most during these years of "pruning" in the brain are the things that are most likely to stick with them later.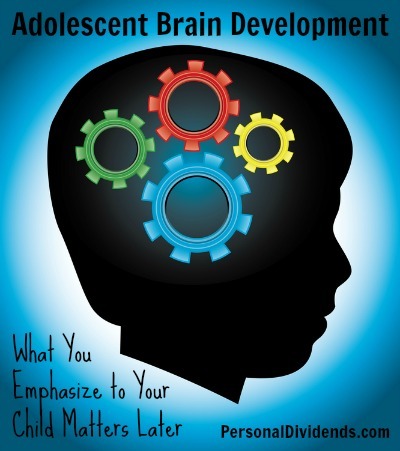 As a result, it's important to carefully think about the experiences and habits you want to encourage your children to develop. I've been much more consistent at setting up a situation in which my son does homework and practices music each day before he gets to do something "fun" like play video games or watch TV. Additionally, I'm making it a point to limit the time spent on these entertainment options in favor of finding other interesting things to do.
Instead of training him to think that "I'm bored" means "I need TV or video games" we look for other options to keep the electronic-watching down. This can be sports activities, going outdoors, playing board games, or reading. I don't want him strengthening the pathways that lead him to think that it has to be all about video games and movies right now.
It's also important to use this time to help adolescents learn how to cope with challenges. This is a little more difficult, since it can be frustrating for me as well. However, I want my son to be able to rise to challenges, so we talk about difficult concepts and I encourage him to solve problems constructively when possible.
We also introduce different foods to my son, and different experiences. Some of what I've read about brain development in teenagers encourages various experiences so that adolescents can get used to different ways of doing things, and to help them avoid getting too stuck in one thing. My parents encouraged us to be involved in at least one sport, one cultural/performance activity, and one academic pursuit growing up so that we could develop well-rounded characteristics.
This makes sense in light of what I've been learning. My son is "only" 11 right now, but he's right at the cusp of new and exciting developments. The habits and interests he develops now could influence him for the rest of his life. As a result, I want to encourage him in things that will teach him to strive, innovate, and make healthy decisions, from the activities he participates in to the food eats.
What do you think? How are you hoping to help your kids develop as people?